Rector: The Rev. Dr. Kate Heichler 
Kate started at Christ Church in February 2018. Ordained a priest in 2004, she has served congregations in Connecticut and Washington, DC, and holds an MDiv (summa cum laude) from Yale Divinity School, and a Doctor of Ministry degree from Hartford Seminary. A prolific writer and crafter of worship experiences, Kate is passionate about the church's healing ministry. She publishes a daily spiritual reflection on the upcoming Sunday's gospel reading (Water Daily). Christ Church is happy to share her with our sister church, Christ Church Wayside.
Deacon: The Rev. Joan Crittenden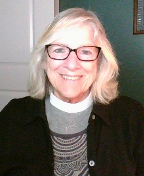 Joan was ordained to the diaconate in the Diocese of Washington in September 2018 and began serving at Christ Church in La Plata and Christ Church in Wayside in 2020. Raised in the United Methodist Church, she became an Episcopalian 30 years ago and was active as a layperson and minister of  communion, serving multiple terms on the Vestry as a member of the Alter Guild. Joan holds an MCOM (summa cum laude) from Phoenix University. She retired from the Department of the Navy in 2008, as the Department of the Navy's Safety Community Manager. She is currently the Palliative Care Chaplain at SagePoint Nursing Facility, a volunteer Chaplain at Charles Regional Medical Center, and a trained End-of-Life Doula. Joan lives with her husband, Ron. They have two daughters, three grandchildren, and one great-grandchild.
Minister of Music: Eileen Peerless
Eileen Peerless has an undergraduate degree (summa cum laude) in piano pedagogy and performance from Bradley University (Peoria, Illinois), and a Masters of Music (performance) degree from Catholic University.  She taught music at Bradley and is currently adjunct professor in music at the College of Southern Maryland. She spent several years as music director and pianist for shows in the DC area and has performed both solo and ensemble concerts at Christ Church and other venues in the area. Eileen enjoys the opportunity to play a pipe organ and to share her love of music with all who enter to worship in the beautiful setting of Christ Church.
Christ Church is also blessed by the service of Eileen's husband Michael Peerless as Cantor to support the congregation's singing. Michael has had a long and illustrious career in music performance and education, including 23 years as a synagogue cantor in Washington DC, and now serves as Musical Director and Conductor of the Southern Maryland Concert Band.
Parish Secretary: Marie Webber
Marie brings a lifetime in the Church and extensive experience in administration to our parish office. She is in the office 9 am – 1 pm Monday through Friday and can be reached at 301-392-1051.