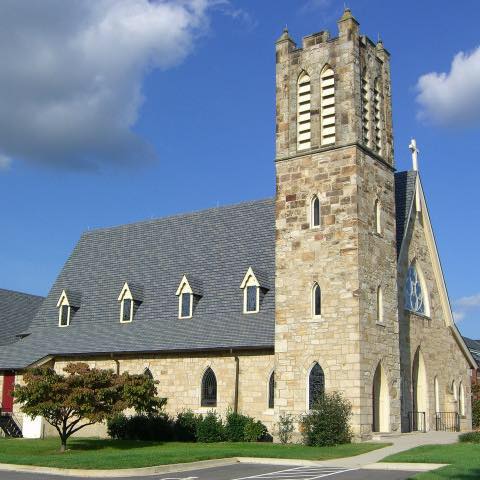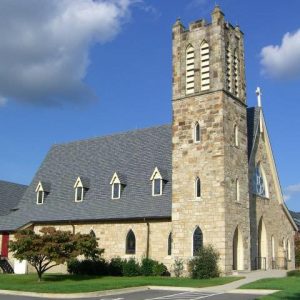 "We remember before our God and Father your work produced by faith, your labor prompted by love, and your endurance inspired by hope in our Lord Jesus Christ." – I Thessalonians 1:3
The history of Christ Church began in 1683 when a small group of English colonists built a log church on the banks of the Port Tobacco River in the village of the same name. This small congregation continued to grow, and with the support of a tobacco tax, a more substantial church building was built in 1709. In time, Port Tobacco Village became the trade and government center of Charles County. Christ Church, as the village congregation, grew in size and influence as well, and it counted among its members such notable citizens as Thomas Stone – a signer of the Declaration of the Independence. In 1808, the church building was destroyed by a tornado and replaced with a larger brick building in 1818.
The current building used by Christ Church was built in 1884 in Port Tobacco Village to replace the earlier 1818 building. Within a decade, however, the congregation recognized the need to relocate. In the 1890s, the newly established Town of La Plata replaced Port Tobacco as the governmental seat of Charles County. The establishment of the railroad, passing through La Plata, also marked an end to Port Tobacco's importance as a trade center. With the decline of their beloved village, the membership of Christ Church made the courageous decision to relocate to La Plata. In 1904, the church building in Port Tobacco was disassembled and moved several miles by oxen and wagon to be reassembled in its current location in La Plata, next to the Charles County Courthouse. That historic stone building is where we gather and worship today.
The people of Christ Church are proud of the congregation's past, and we are committed to embracing our future and to building a church community where all are welcome to find and be found by God. Christ Church, like La Plata, is experiencing significant growth. Within our congregation, you will find individuals and families who have been members for generations, as well as people who are new to the La Plata area. Approximately 30% of the current congregation grew up in the Episcopal Church, and approximately 70% of the congregation has come to Christ Church from other Christian denominations and traditions. We are excited about the future of our church, and we hope you will come and experience this loving, joyful community in person – and help build our history going forward.