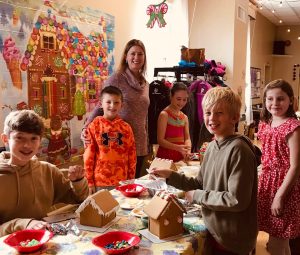 "Behold, I am making all things new." – Jesus, Revelation 21:5
We like to follow Jesus' example… Here's where you'll find upcoming events and news from Christ Church in La Plata!
Want to keep up? Subscribe to our weekly E-News here!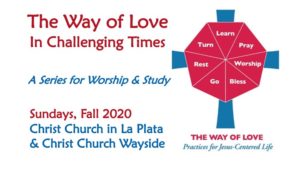 THE WAY OF LOVE IN CHALLENGING TIMES
Series Starts September 13th 
When life gets tough, we turn to God.Our relationship with God in Christ is the source of amazing peace, purpose, joy and love, even in the most challenging circumstances. This fall we will return to the Way of Love, those seven practices for a Jesus-centered life – this time with a focus on how deepening our faith can help us in the hard times we face now. Each Sunday our worship will focus on a practice, and in the hour before worship we'll have a time of learning. (The class begins September 20th).
Families can also move through the series at home, using this wonderful resource. 
Sign up here for the class; just show up for worship!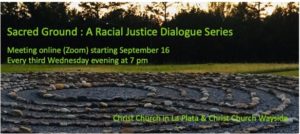 Sacred Ground: A Racial Justice Dialogues Series starts Wednesday, September 16 at pm, online
The Christ Churches will host an online Sacred Ground Dialogue Circle, meeting on Zoom every third Wednesday from mid-September 2020 through April 2021. Sacred Ground is a 10-session program developed by the Episcopal Church "that creates space for difficult but respectful and transformative dialogue on race and racism." The curriculum includes short films and videos and readings, as well as facilitated discussion. It moves toward the "vision of beloved community – where all people are honored and protected and nurtured as beloved children of God, where we weep at one another's pain and seek one another's flourishing." Register here if you will be part of this circle. A link to the gathering will be sent.
Upcoming Events
No Events
Calendar link