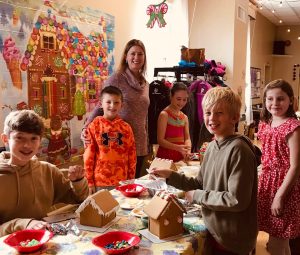 "Behold, I am making all things new." – Jesus, Revelation 21:5
We like to follow Jesus' example… Here's where you'll find upcoming events and news from Christ Church in La Plata!
Want to keep up? Subscribe to our weekly E-News here!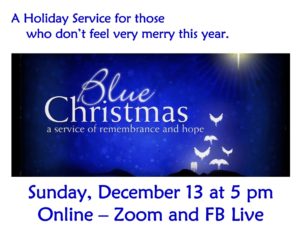 BLUE CHRISTMAS SERVICE OF HOPE AND HEALING
December 13th, 5 pm on Zoom and Facebook Live 
This year, the "Holiday Blues" are likely to afflict more people than usual, so we will offer our Blue Christmas service online on Sunday, December 13th at 5 pm, on our usual link. Through music and readings and prayer, we will make space for lament and move toward hopefulness, from darkness to light. We will also livestream this service to our Facebook Page. Please share the Flyer-BlueChristmas 2020 and FB event with others so we can reach out with God's love.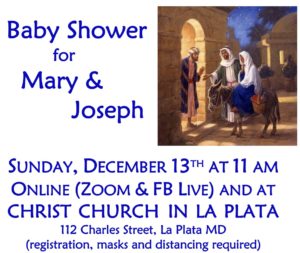 BABY SHOWER FOR MARY AND JOSEPH
December 13th, 11am on Zoom and Facebook Live, and in-person at Christ Church in La Plata
We will celebrate the biblical parents of Jesus with a "Baby Shower" during our Sunday worship. You can join us online or in person (pre-registration, masks and distancing required). All are welcome to drop off at the church (M-F, 9am – 1pm) an unwrapped gift of baby clothes or supplies. We will get these to Angels Watch, which provides shelter and support for homeless mothers with infants. Jesus' parents could relate!
Register for attending in-person (required due to Covid) here.
Attend online here or by watching Facebook Live.
Please share the Flyer-MaryShower 2020 and FB event with others so we can reach out with God's love.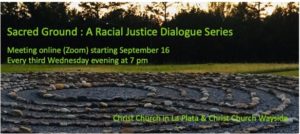 Sacred Ground: A Racial Justice Dialogues Series starts Wednesday, September 16 at pm, online
The Christ Churches will host an online Sacred Ground Dialogue Circle, meeting on Zoom every third Wednesday from mid-September 2020 through April 2021. Sacred Ground is a 10-session program developed by the Episcopal Church "that creates space for difficult but respectful and transformative dialogue on race and racism." The curriculum includes short films and videos and readings, as well as facilitated discussion. It moves toward the "vision of beloved community – where all people are honored and protected and nurtured as beloved children of God, where we weep at one another's pain and seek one another's flourishing." Register here if you will be part of this circle. A link to the gathering will be sent.
Upcoming Events
No Events
Calendar link