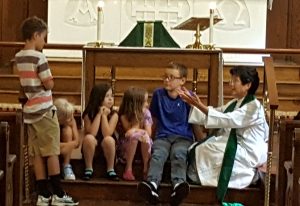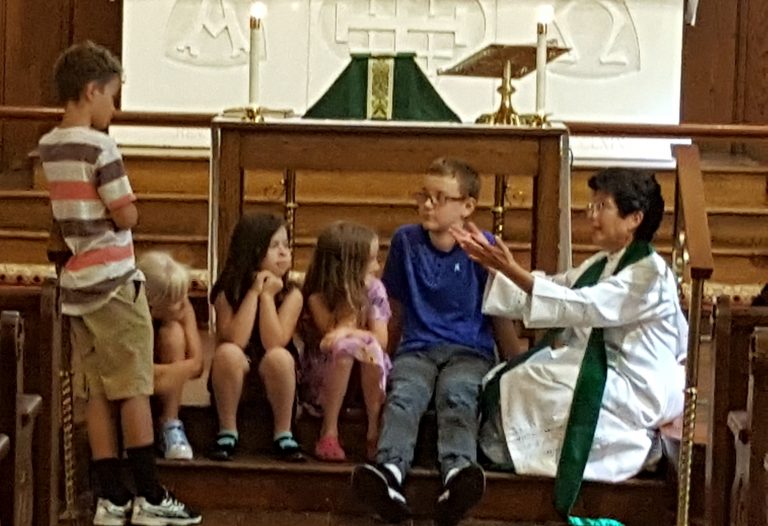 Jesus said, "Let the little children come to me, and do not stop them; for it is to such as these that the kingdom of heaven belongs." – Matthew 19:14
During this COVID-19 period of "being together apart," here are some resources to guide families in moving through Holy Week and Easter:
Free Holy Week and Easter Activity Pack from Church Publishing, Inc.
A guide to Holy Week at home 2020, using the readings appointed for each day in Holy Week.
A blog-post from a religious educator and parent on Faithful Parenting in a Pandemic.
We learn as much from our youth at Christ Church as we teach them. They are not the church's future – they are the church's present, full of gifts and faith and profound wisdom. We invite them to learn in playful ways, and they in turn teach us to play as we pray. Here are some of our regular offerings for our younger members:
Sunday School
Children's Sunday School classes are offered every Sunday except the first Sunday of the month, when the worship service is designed to incorporate children more fully. Classes meet at 11 am, and end when the children join their parents in the Sanctuary for Holy Communion. This year we are starting a new approach called "RiverWalking," which stays with one foundational story from the bible for several weeks, approaching it in different "workshops" that employ diverse learning styles. It helps every child really learn that story.
The first Sunday of each month, the whole 11 o'clock worship service is more child-focused, with a children's homily, and children stay with adults. Children also participate in special activities during the year such as Palm Sunday Processional, Easter Egg Hunt, Advent wreath-making and Gingerbread House-making
Holy Communion and Sacraments
In the Episcopal Church, all the baptized are invited to receive the bread and wine at Communion; there is no age limit. Periodically Rev. Kate offers a Holy Communion Workshop for children to better understand what happens during the eucharist. Though the church does not have a formal ritual of First Communion, a special Rite can be offered on request to celebrate this milestone in a Christian's life.
Youth Making Change
Our young people are keenly aware of the challenges our communities face, and like to make a difference in the world. Periodically we gather for an outing to offer service in the local community, or raise funds for an organization further away. Our work is always followed with some time to enjoy ice cream or pizza and a chance to reflect on where we encountered God in our work. We also participate in regional youth activities organized through the Episcopal Diocese of Washington.
Confirmation Classes for Youth
We believe that preparation for confirmation involves formation, not just information, and should be fun and joyful. We conduct our preparation when a person or group is ready to begin this process. We often partner with other Episcopal churches in our region to prepare for confirmation. Please contact our rector to discuss confirmation.
Special Events for Children
We hold special workshops and events for children at different times of the church year:
A Holy Communion Workshop helps children to understand the meaning of the Christian Eucharist, as well as the "how-tos" of receiving bread and wine. Great for parents who want to know more too.
The Christmas Pageant involves the children in the re-telling of the great Christmas story. There is a part for every child who wants to participate, no matter how young or old. The pageant is performed at our Christmas Eve Family Service.
Holy Week Walk for Kids invites children to take a guided tour through the events of Holy Week and Easter, sitting as the disciples at the Last Supper, getting their feet washed, enduring the trials of Jesus, contemplating the crucifixion and burial, and experiencing the surprise of the empty tomb. These events are narrated in different locations, as the children offer their own profound reflections.