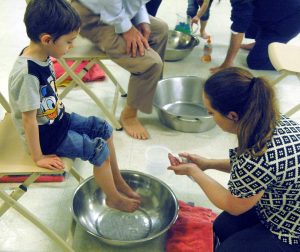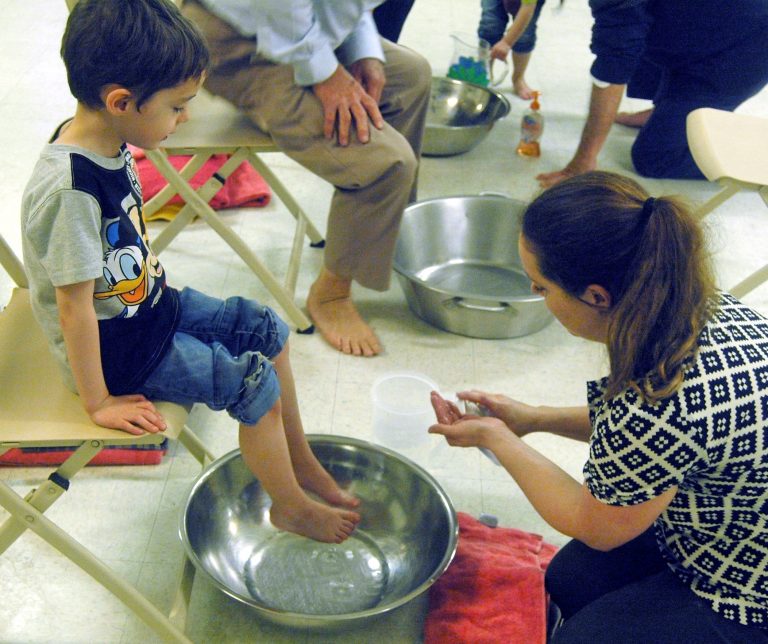 "…we have not ceased praying for you and asking that you may be filled with the knowledge of God's will in all spiritual wisdom and understanding, so that you may lead lives worthy of the Lord, fully pleasing to him, as you bear fruit in every good work and as you grow in the knowledge of God." – St. Paul, in Colossians 1:9-1
BOOK STUDY AFTER EASTER:
Words of Life, starting April 18, Sunday mornings, 10 o'clock Learning Hour on Zoom (click here)
What if the Ten Commandments were not just a set of ancient rules,
but a guide to experiencing the good life today? 
Nearly everyone has heard of the Ten Commandments, the list of "thou-shalt-nots" found in the Bible. Jesus saw these commandments not as onerous burdens, but as guideposts to help us experience a good and beautiful life. These ten ancient "words" were given to us by a loving God who longed to set safe boundaries, create order out of chaos, help communities live peacefully, and protect us—often from ourselves.
Barry Kercher will lead a study of this book in which bestselling author Adam Hamilton brings modern eyes to the most important set of ethics in history. He considers the commandments in their historical context, unpacks how Jesus reinterpreted them, and shows how every thou-shalt-not was intended to point to a life-giving "thou shalt." He also explores how the latest research in science and psychology illuminates these commandments as a way to order one's life beautifully in the present day. In a culture marked by workaholism, materialism, and social media-driven envy, God has given us a time-tested path that leads to gratitude, confidence, and peace.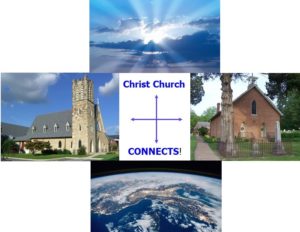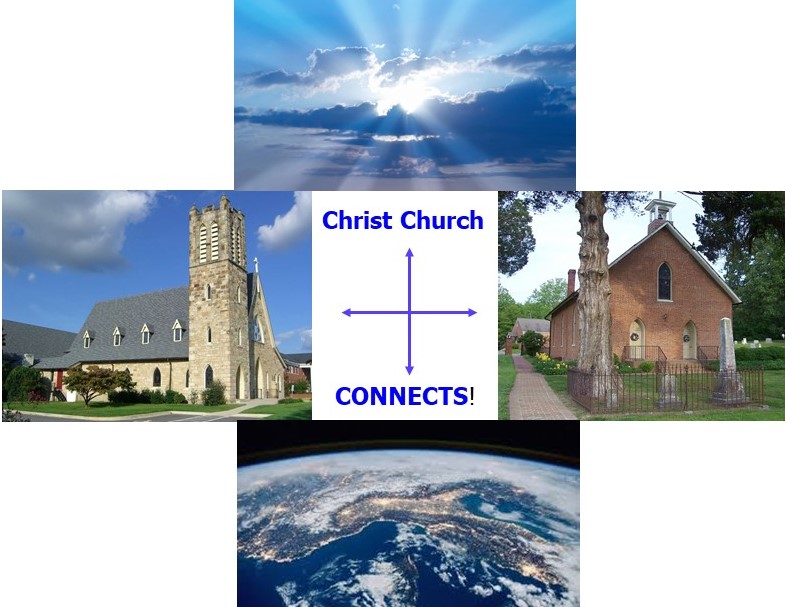 BIBLE STUDY WEDNESDAYS AT 7 pm
Each Wednesday evening an international group gathers  online for bible study. Connect to Zoom here Password: LPWay or call 1 646 558. We start at 7  pm. The evening ends at 8 pm with "Night Prayers," Christ Church's brief weekday evening prayer service. Come for all or any of these pieces.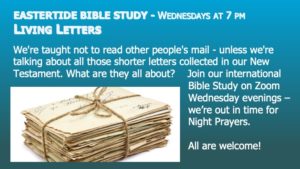 Starting April 14, Short New Testament Letters 
We're taught not to read other people's mail – unless we're talking about all those letters collected in our New Testament. What are they all about? Join us on Wednesday evenings in the Easter season as we explore them at Wednesday Bible Study – which draws a crowd from all over the US and Canada! You don't need to know anything coming in – and you'll be surprised at how much wisdom you can share. Hop in any  Wednesday at 7 pm on Zoom; we're done in time for Night Prayers at 8 pm. 
SPA FOR THE SPIRIT: ONLINE RETREAT MORNINGS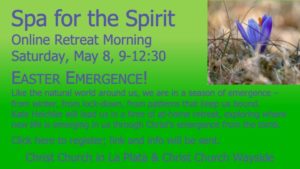 Rev. Kate will lead a spring online retreat on Saturday, May 8, from 9-12:30 focused on "Easter Emergence."  Like the natural world around us, we are in a season of emergence – from winter, from lock-down, from patterns that keep us bound. During this at-home retreat, we will explore where new life is emerging in us because Jesus emerged from death into life.
Click here to register; link and info will be sent.
Download the Flyer-Spa 5-8-21.
Spiritual Assessment Inventories 
Take the Inventory for Confession (pdf for printing) or Inventory for Confession  (Word for downloading and writing)
Take the Spiritual Growth Inventory.
Take the Inventory of Offering (or online here)
Take the Inventory of Priorities (or online here)
Take the Inventory of Spiritual Readiness (or online here).
Here's what else is going on…
"God is love." – that is where we begin in living the life of faith. And God's love is where we will end, and God's love is with us all through our lives. But we all have different experiences of that love – and sometimes obstacles to experiencing it at all. Spiritual growth often calls for healing of body, mind and healing – spirituality and healing are virtually inseparable.
At Christ Church, we believe in God's power to heal us, inside and out, given to the church through Jesus' ministry. We witness God's healing through our prayers, sometimes in miraculous ways. We offer prayers for healing at our Sunday services, as well as occasional healing services.
Faith is a gift of God – and like all gifts, it needs to be nurtured and tended. Whether you are a seeker exploring spiritual traditions, or a long-time believer in Jesus Christ as Lord, or someone with a whole lot of questions about God, you are welcome to grow with us in this spiritual garden. Through worship and spiritual offerings, Christ Church provides opportunities for adults to study the Bible and contemporary spiritual books, learn about prayer, deepen our faith lives and recharge our batteries.
We celebrate the spiritual journey of each person who journeys with us, seeking to support and uphold each person's path as we testify to the truth and power of the tradition of Christian spirituality we have inherited. We invite you to bring your gifts and your wounds, to share with us in the transforming love of God.
Sunday Faith Exploration for Adults
Adult Christian Formation Classes are 5 to 6-week classes offered at various times during the year on Sunday mornings from 9:45 – 10:45 in the Parish Hall. They are usually accompanied by a book and a short video presentation. Participants are asked to read a chapter in the book each week. However, anyone who wishes to "pop in" and come to any class is welcome without reading the book and will surely learn something from it. Past classes have been based on Adam Hamilton's books: Moses: In the Footsteps of the Reluctant Prophet; The Journey, Walking the Road to Bethlehem; Creed, What Christians Believe and Why; and Half Truths: God Helps Those Who Help Themselves and Other Things the Bible Doesn't Say. Classes for 2018-19 may include John: The Gospel of Light and Life; Faithful: Christmas Through the Eyes of Joseph; Making Sense of the Bible: Rediscovering the Power of Scripture Today; and 24 Hours that Changed the World.
Kids Hour for Children
Children's Sunday School classes are offered online during our Learning Hour at 10 am.
Alpha
Alpha is a ten-week course oriented around hospitality that is a great way to deepen your understanding of the Christian faith – and to deepen that faith through experiences of God's love and power.  Each evening begins with supper at 6:30, followed by a talk and discussion. We end by 8:45. Childcare and homework help can be provided – put the little ones in pajamas and bring them along! Click here to inquire about the next Alpha Course.
Training for Ministry
We try to support our leaders (that's most of the congregation… ) by offering training and support for the ministries people undertake. Whether it's how to teach Church School, how to pray for others, or how to run an effective meeting, we are delighted to provide ongoing support.
Quiet Days and Retreats
Periodically we offer a Quiet Day (one-day retreat) or weekend Retreat for rest, reflection and recharging our spiritual batteries. These are wonderful opportunities for drawing closer to God, and to the community at Christ Church.