"…I was hungry and you gave me food, I was thirsty and you gave me something to drink, I was a stranger and you welcomed me, I was naked and you gave me clothing, I was sick and you took care of me, I was in prison and you visited me." – Jesus, quoted in Matthew 25:36-37
Christ Church seeks to be a strategic partner with local non-profits, government and faith communities in addressing needs and challenges in the community and in the world. Our primary outreach activity is our Food Pantry which is now expanding to serve people who are homeless. We periodically hold a series of Community Catalyst Conversations designed to create a safe space for members of the community – all are welcome – to learn more about big issues challenging us, focus on our assets, and convene in "strategy circles" to develop solutions, so that we can help La Plata and the broader Charles County and Southern Maryland become a place of justice and equity, joy and generosity, security and hope. See more on that here…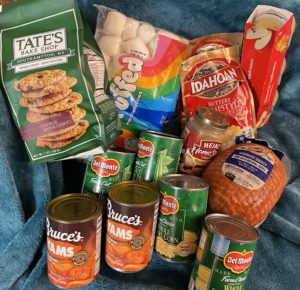 THANKSGIVING DINNER BOXES FOR
PEOPLE WITHOUT KITCHENS
We are doing more and more outreach with folks temporarily housed in motels, or living in the woods – many are chronically homeless with multi-faceted needs. Many have asked if we have anything to give out for Thanksgiving. We can put together "Thanksgiving Boxes" with food that doesn't require a kitchen. If you'd like to assemble a box (or bag) and leave in the Parish Office by Tuesday, November 23, we'll get it distributed. Each box should include:
Small cooked ham ($10-12);
canned corn; green beans; yams,
Instant mashed potatoes;
can or jar of gravy;
package of rolls
a pie.
NEEDS OF THE HOMELESS
The colder weather is upon us! From our friends forced to camp in the woods, we have a request for a Mr Buddy heater set up (generally available at in store at Walmart or Dicks Sporting Goods), paired with a 20lb propane tank (cheapest at BJs…) and a hose. It costs $13 to fill the propane tank. Total cost around $165. Please drop off at Christ Church.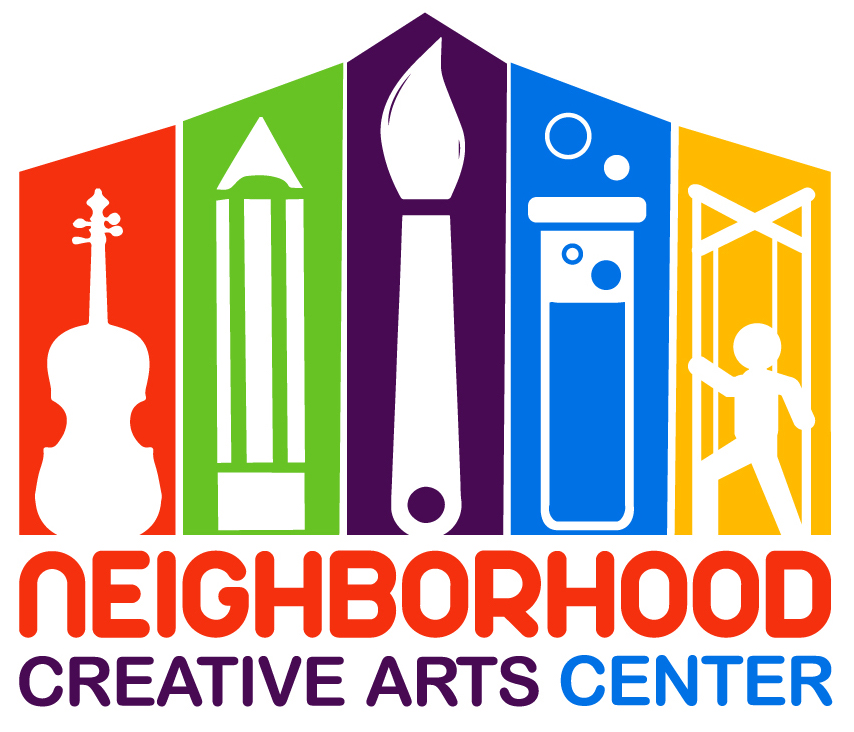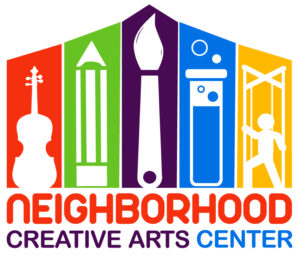 GIVING FAIR DECEMBER 4TH 
The Neighborhood Creative Arts Center will hold its Annual Giving Fair at Christ Church on Saturday, December 4 from 10 to 3. Families will arrive at pre-reigstered times to facilitate social distancing.
The Giving Fair celebrates children's ability to create and serve. At this event, children will have the opportunity to make five beautiful gifts with the help of a volunteer or build their own DIY craft kits to complete at home. Homemade gifts and small remembrances are particularly sweet to those who receive them at the holidays.
The Arts Center is looking for volunteers to assist children as they make the crafts and assemble DIY craft kits to take home. The crafts are relatively straightforward to create, yet the children, ages 4-12, will need guidance. Training and materials will be supplied; volunteers simply need to help the children and keep the table organized.
This is a joyful opportunity to work with children, talk to them about generosity, and inspire their creativity. Please contact Georgia Bonney if you can help out that day. It is also a great way for Christ Church to connect with area families!
Christ Church Tutoring Program
The upheaval which Covid restrictions have wreaked on our educational systems has left many children at risk of failing this year. Neal Bankenstein, who works with vulnerable children and families in the Charles County Public Schools, has suggested we launch a tutoring program to give kids some extra help.He and other administrators will refer children to us; we'll match them up with tutors who are comfortable with the needed subject matter, and we'll set up a time for tutoring to happen on Zoom. Karen Hile, a teacher and member at Christ Church La Plata, has offered to serve as a consultant for tutors who wants some help.
Please fill out this form to indicate your preferred subjects and available times. We'll start with the new semester in late January.
The Miracle Box
Bill Hoxie has built an enclosed bin to collect coats and blankets – one side for new items (preferred) and the other for used. We are increasingly collecting goods needed by folks who are homeless, living in encampments in the woods. We call it the Miracle Box, because so often Bill finds exactly what someone needs, and in their size, when he looks there.
Serving people who are homeless – we are increasingly meeting people who have lost housing and are living in encampments. We have an ongoing need for decent tents (an 8-person, 2-room dome tent such as this would be optimal), tarps to go under and over the tents, glow in the dark rope and small propane canisters (usually six to a pack). You can place these items in the Miracle Box by the Food Pantry.
Food Pantry
The Food Pantry is an outreach ministry of Christ Church in La Plata. The pantry, on church grounds at 112 Charles Street, is open each Friday from 9 am to 11 am, except for some holidays. Food items such as canned meats, fruits and vegetables, as well as fresh produce, dairy and eggs (when available) are given to residents of Charles County.
Laypersons of the parish and outside volunteers run the pantry. Mary Rice oversees operations: food pickups,  Food Bank purchasing, and fundraising. Volunteers are always welcome to help with food pick-ups at area stores on Thursdays and Fridays (trucks helpful), and with food distribution on Friday mornings.
COVID-19 Update: Since March 2020, for the safety of both volunteers and clients, we have changed the way we acquire and distribute food. Instead of clients shopping inside the pantry, we now have curbside pickup only: clients currently receive pre-packaged collections of food from the safety of their cars.
Community Catalyst Conversations

Christ C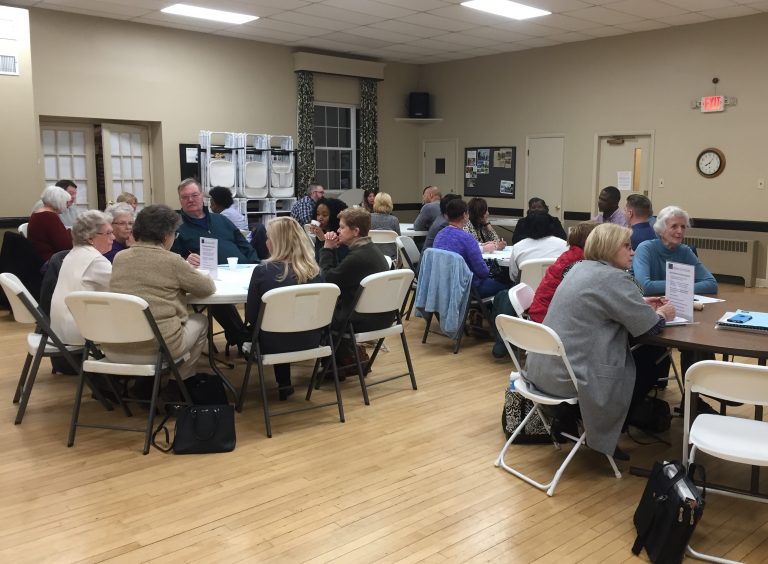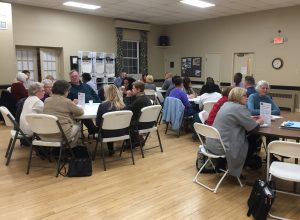 hurch hosted its first Community Catalyst Conversation on the topic of Affordable Housing on February 26, 2019. Some 35 people gathered to hear from Christina Pompa, Deputy Director of Planning and Growth for Charles County speak about the need for affordable housing for entry-level workers and their families, as well as a critical need for housing for those below the poverty line. Groups then met in Strategy Circles to articulate a vision for effective affordable housing, and how we might increase public support. Community Catalyst Conversations will be offered on other topics in the coming year.
Special Services

Chris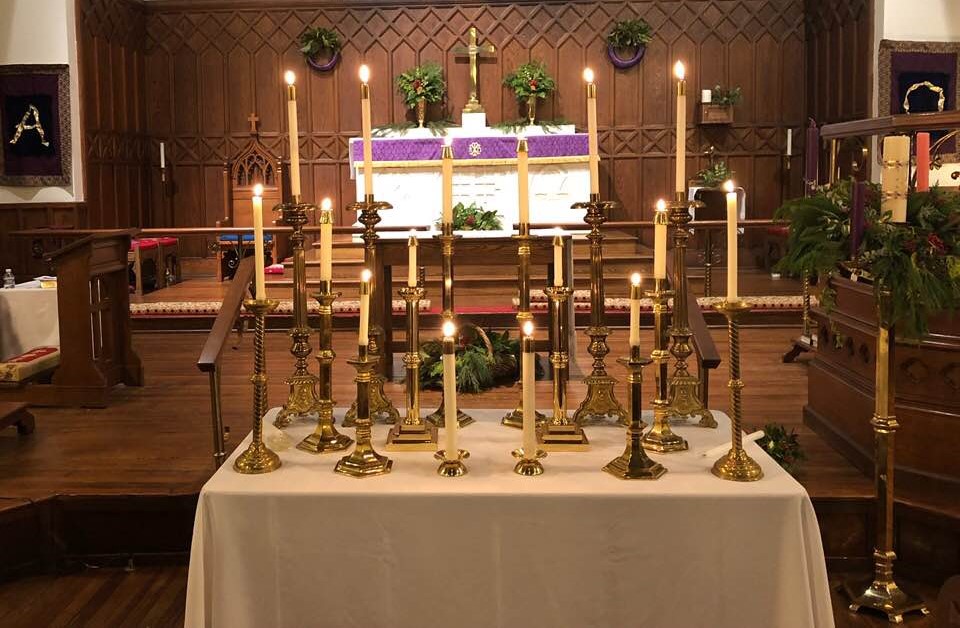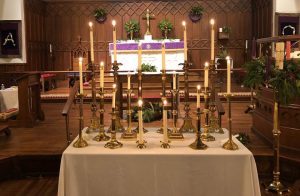 t Church hosts the annual National Homeless Person's Memorial Day on December 21. We partnered with LifeStyles of Maryland to remember individuals who had died homeless in the past year.  We hosted an Election Eve Prayer Vigil on the eve of the last national election, as well as periodic interfaith prayer vigils.
Other
What's your passion? Who do you want to reach out to? Let us know, and see if we can support you.
Outreach Projects of Individual Members of the Community
Many of our members are involved in outreach projects as individuals. All are invited to share this work with the community.