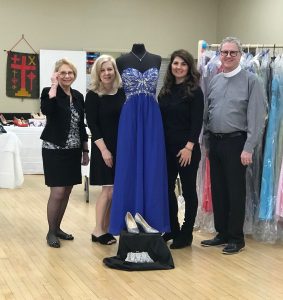 "…I was hungry and you gave me food, I was thirsty and you gave me something to drink, I was a stranger and you welcomed me, I was naked and you gave me clothing, I was sick and you took care of me, I was in prison and you visited me." – Jesus, quoted in Matthew 25:36-37
Christ Church seeks to be a strategic partner with local non-profits, government and faith communities in addressing needs and challenges in the community and in the world. Our primary outreach activity is our Food Pantry. We are also inaugurating a series of Community Catalyst Conversations designed to create a safe space for members of the community – all are welcome – to learn more about big issues challenging us, focus on our assets, and convene in "strategy circles" to develop solutions, so that we can help La Plata and the broader Charles County and Southern Maryland become a place of justice and equity, joy and generosity, security and hope. See more on that here….
Prom4All Clothing Drop-Off
Saturday, February 29, 9a – 12p; Sunday, March 1, 9a – 1p.
Christ Episcopal Church's "Prom4All" program to provide prom gear so students in need at area high schools can enjoy their proms, was a great success last year. The church is doing it again, and is seeking donations of prom dresses (sizes 6-10 and medium only, please – we have over 200 in other sizes); men's suits, dress pants, jackets, and dress shirts; and accessories (jewelry, purses, shoes, men's dress shoes, shirts, dress pants and jackets, ties and bowties). All items, as well as gift cards or monetary donations to be used for tux rentals, salons, florists, restaurants and transportation, can be dropped off at the church's main door at 112 Charles Street (facing onto Charles Street) on Saturday, February 29 from 9-12, or Sunday, March 1 from 9-12. The church is located next to the Courthouse.
With some 750 children in Charles County public schools homeless or in transitory living, there is a great need. "This is a tangible way to show young people who often feel overlooked that they matter, that we care that they participate in this central rite of passage in high school life," says senior pastor Kate Heichler. Prom4All is one component of Christ Church's Emergence Program to reach out to  high school age students in transition. Questions can be directed to [email protected]
Food Pantry
The Food Pantry is an outreach ministry of the parish. Each Friday, except for some holidays, the pantry is open from 9 am to 11 am. On an average the pantry provides non-perishable and perishable food and sundry products to some 400-500 individuals per month. Within the broader church, the Pantry co-sponsors the Southern Maryland Hunger Walk at Serenity Farm in Benedict, Maryland each October.  The Hunger Walk is the annual fund raiser for the Diocese of Washington's Hunger Fund Committee.  Walkers have been recruited from many Southern Maryland parishes each year.
Founded in 2000 by Rebecca and Joe Plemmons, who gave away bread from the church steps each week, the Food Pantry expanded in 2002 when the current building was erected. The Pantry is a major element of the present parish deacon Eric Shoemaker's vocational ministry. He is the Southern Maryland representative to the Diocesan Hunger Fund Committee. At the Pantry Eric facilitates operations, stays on the lookout for free or low-cost food acquisition, and helps arrange for volunteers to pick up food and process the contributions, stock pantry shelves, and distribute each Friday morning.
Laypersons of the parish and outside volunteers are the real operators.  The Deacon's wife, Joan, serves as the managing director of the food pantry. She applies for grants and authors monthly reports to the parish and the SoMD Food Bank.  She participates in all food pickups and Food Bank purchasing.  An avid coupon clipper and bargain hunter who watches for sales and when to exploit them by way of coupons, Joan procures additional fresh food and supplies from the military commissary on a weekly basis.
She leads the weekly distribution of food. Other regular volunteers are John MacCoy of Christ Church, and Walter Coy of our sister parish, Christ Church Wayside.  John spends nearly as much time serving the food pantry as Joan and Eric do.  John and Walter alternately help in two food donation pick-ups on Thursdays, and one large one on Fridays.  They also help weigh and record donations, and shelve products. Delores Burgess faithfully comes each Friday and supervises client-helpers in preparing bread, pastry, and other donated items for distribution.  Danielle Webber and Russ Goemere help in distribution on a scheduled basis, as do Pam Hamorsky, Shannon McLaughlin and her daughters. Bill and Judy Snider, now at Trinity Newport, help each Friday.  Ron Callahan, a friend we met and recruited at the College of Southern Maryland pool helps most Fridays as well.
Community Catalyst Conversations

Christ C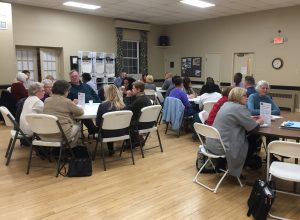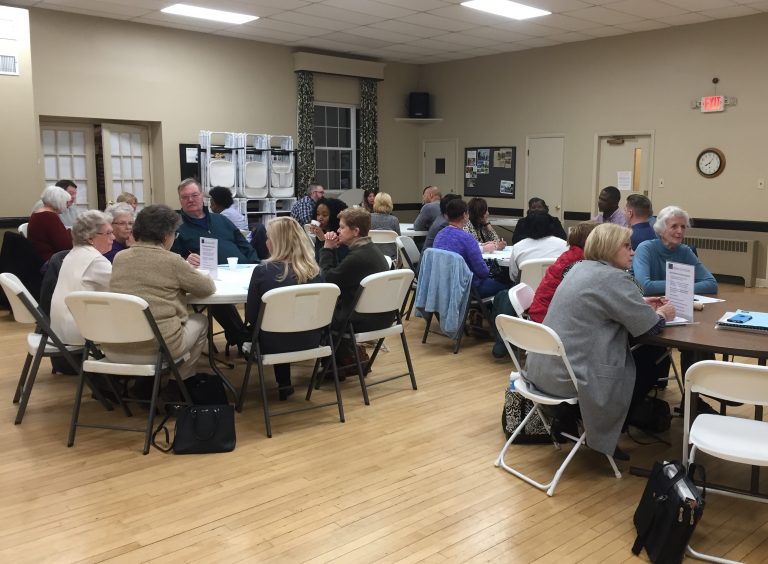 hurch hosted its first Community Catalyst Conversation on the topic of Affordable Housing on February 26, 2019. Some 35 people gathered to hear from Christina Pompa, Deputy Director of Planning and Growth for Charles County speak about the need for affordable housing for entry-level workers and their families, as well as a critical need for housing for those below the poverty line. Groups then met in Strategy Circles to articulate a vision for effective affordable housing, and how we might increase public support. Community Catalyst Conversations will be offered on other topics in the coming year.
Special Services

Chris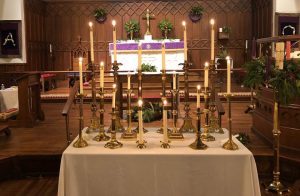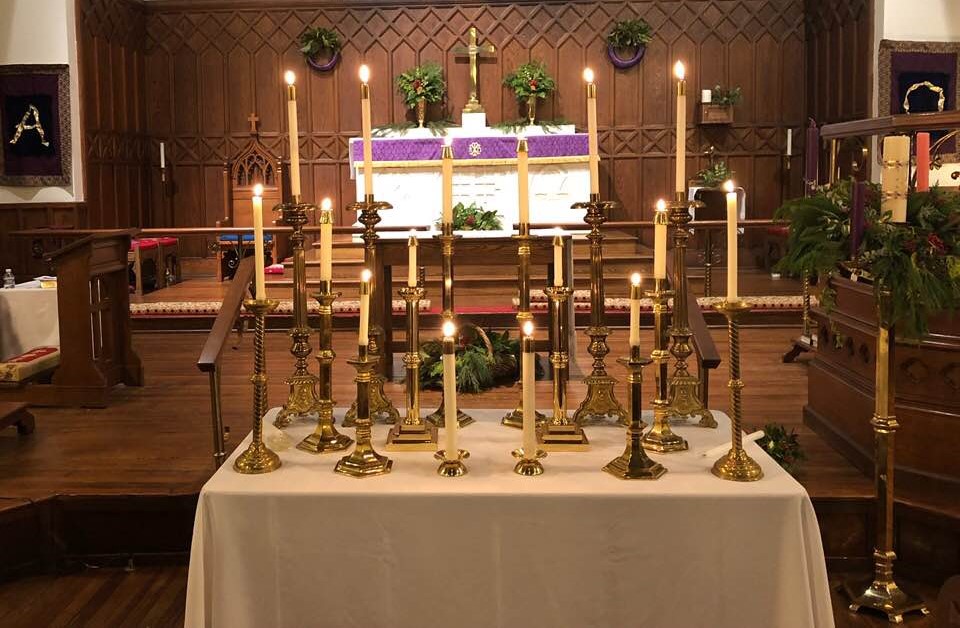 t Church hosted an Election Eve Prayer Vigil on the eve of the last national election, as well as a memorial service on National Homeless Person's Memorial Day on December 21. This was the first such service of remembrance in Southern Maryland, and we partnered with LifeStyles of Maryland to remember sixteen individuals who had died homeless in the past three years.
Other
What's your passion? Who do you want to reach out to? Let us know, and see if we can support you.
Outreach Projects of Individual Members of the Community
Many of our members are involved in outreach projects as individuals. All are invited to share this work with the community.