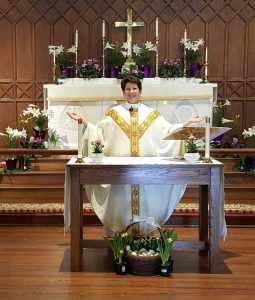 "Worship the Lord with gladness; come before God with joyful songs." – Psalm 100:2
Worship at Christ Church creates a joyful space where we can encounter the presence of God – whether we are worshipping in the beauty of our historic church, or at home on Zoom or Facebook Live. Through songs and readings, sermons and prayers, we celebrate the great story of God's amazing love. At the heart of that story is mystery, so we leave room for that too, most especially in the sacrament of Holy Eucharist (also called Communion), where we are made whole again as the body of Christ. Like a good restaurant, our "menu" features different flavors, styles and priorities – all of them are centered on the Good News of our belovedness in Christ
During this pandemic, Christ Church stays connected online. Our 11 o'clock worship service is hybrid – in-person and online. Check below or our Facebook page for links to online worship and education opportunities.
OPTIONS FOR WORSHIP THIS SUNDAY 
Join us on Zoom at 11 am (also livestreamed on Facebook). Click here to connect online. The worship leaflet can be downloaded here: Bulletin 3-7-21
8 am –  In-person, 30-minute eucharist at Christ Church in La Plata. Reservations required – here, or by calling the parish office by Thursday at 3 pm (301-392-1051). Indoor service, with masks and distancing required. 
10 am – Learning Hour on Zoom – click here. "Kids Forum" for children, choice of two courses for adults.
11 am – Holy Eucharist In-person, and on Zoom and Facebook Live. Click here  to connect online. First time using Zoom? Watch this 1-minute tutorial.
If you don't have a  computer or smart phone you can call in: +1 646 558 8656; Meeting ID: 609 359 4889
Our password is LPWay. 
Reservations required for in-person attendance: here, or by calling the parish office by Thursday at 3 pm (301-392-1051). Indoor service, with masks and distancing required. Those attending in-person worship must register each week, and sign and return the Diocesan Covenant for Regathering in Worship – Diocesan Covenant for Regathering in Person (Covenant Signature-1)- once only. Download, sign and email it to the parish office.
Safety Protocols: 
Wear a mask;
Bring chairs if you have them (for outside worship);
We are paper-less – you can print out the bulletin (see link above), or access it on a hand-held device Sunday.
If you've been ill or traveling, worship from home.
Church bathrooms are for emergency use only, and require following simple sanitizing procedures
Communion will be distributed, bread only, by Rev. Kate;
There will be no social time.
Protocols for sanitizing spaces and maintaining healthy practices can be reviewed here: La Plata-Wayside Regathering Plan- 7-15-20.
Night Prayers is at 8 pm each evening, Monday – Thursday. That can be accessed at this link; pw: LPWay
What to Expect in Worship at Christ Church
Expect to be accepted as you are – there is no dress code. Our worship follows the pattern in the Book of Common Prayer, which is the prayer book of the Episcopal Church. We sing, pray, listen, move; we stand, sit or kneel, depending on the part of the service – feel free to do what is comfortable for you. Everything you need to know for worship is printed in the worship bulletin each week. Our greeters will give you a bulletin when you arrive, and they are also available to answer any questions you may have.